If you're looking for luxury Tanzania safari holidays, Ubon Safari can provide that for you! Tanzania is a country in East Africa and a beautiful destination to visit with endless safari opportunities. Prior to its independence from British rule, the country was called Tanganyika. Shortly after the independence, Tanganyika and Zanzibar merged to form the United Republic of Tanzania. Dar Es Salaam is the capital city of the country. Kilimanjaro is the main attraction for a Tanzania safari holiday. Mt. Kilimanjaro is the highest longstanding mountain in Africa. The main peak is estimated to be 5,895 meters high!
Tanzania is home to several national parks and game reserves. Our luxury Tanzania safari holidays are split into four categories:
The Northern Circuit: Serengeti, Ngorongoro, Manyara, Arusha and Kilimanjaro
The Southern Circuit: Selous, Mikumi, and Ruaha
The Western Circuit: Mahale and Gombe National Parks are popular amongst the safari enthusiasts for chimpanzee trekking
The Coast: Zanzibar, Pemba and Mafia
Tanzania has two wet season, the long and short rain. The long rain seasons are between April and May. The short rain seasons fall in November (the long rain seasons are best avoided, especially for Southern Tanzania safaris). Tanzania can be visited all year round although best time is during the dry season from June to October.
CAPITAL CITY: DODOMA (Official) DAR ES SALAAM (Commercial)
AIRPORT: JULIUS NYERERE INTERNATIONAL AIRPORT / KILIMANJARO INTERNATIONAL AIRPORT
CURRENCY: TANZANIA SHILLING (TSH) / US DOLLAR widely accepted
LANGUAGE: ENGLISH AND KISWAHILI
VOLTAGE: 230V/50Hz UK Plug
Wildebeest Migration Map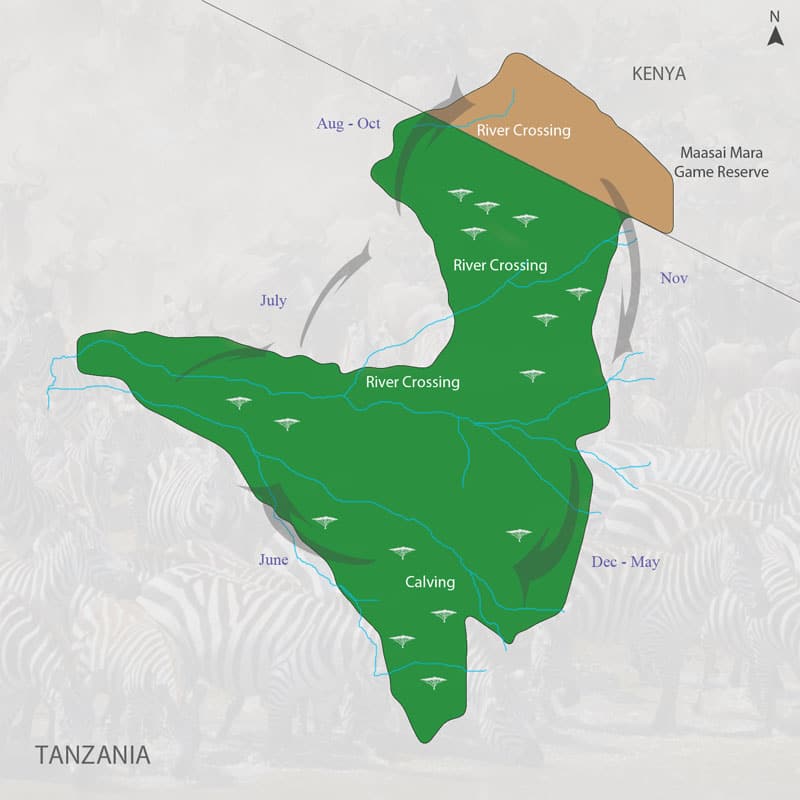 Here at Ubon Safari, we do our utmost to ensure that you have a spectacular adventure when you're visiting Africa. If you would like to book one of our luxury Tanzania safari holidays, contact us on +44 203 198 0484 and one of our friendly team members will be more than happy to help. Furthermore to say, that Ubon Safari is one of the luxury African safari companies.