If you're looking for luxury Tanzania safari holidays, Ubon Safari can provide that for you! Tanzania is a country in East Africa and a beautiful destination to visit with endless safari opportunities. Prior to its independence from the British rule, the country was called Tanganyika. Shortly after the independence, Tanganyika and Zanzibar merged to form the United Republic of Tanzania.
Dar Es Salaam is the capital city of the country. Kilimanjaro is the main attraction for a Tanzania safari holiday. Mt. Kilimanjaro is the highest longstanding mountain in Africa. The main peak is estimated to be 5,895 metres high!
Tanzania is home to several national parks and game reserves. Our luxury Tanzania safari holidays are split into four categories:
The Northern Circuit: Serengeti, Ngorongoro, Manyara, Arusha and Kilimanjaro
The Southern Circuit: Selous, Mikumi, and Ruaha
The Western Circuit: Mahale and Gombe National Parks are popular amongst the safari enthusiasts for chimpanzee trekking
The Coast: Zanzibar, Pemba and Mafia
Tanzania has two wet season, the long and short rain. The long rain seasons are between April and May. The short rain seasons fall in November (the long rain seasons are best avoided, especially for Southern Tanzania safaris).
Tanzania can be visited all year round although best time is during the dry season from June to October.
CAPITAL CITY: DODOMA (Official) DAR ES SALAAM (Commercial)
AIRPORT: JULIUS NYERERE INTERNATIONAL AIRPORT / KILIMANJARO INTERNATIONAL AIRPORT
CURRENCY: TANZANIA SHILLING (TSH) / US DOLLAR widely accepted
LANGUAGE: ENGLISH AND KISWAHILI
VOLTAGE: 230V/50Hz UK Plug
TANZANIA SAFARI HOLIDAYS BEST TIMES:
JUNE TO OCTOBER ( all parks ) June – July and Jan – feb ( Serengeti for Migration of wildebeest and calving )
JUNE, JULY, AUG – Morning and Nights get cold.
NGORONGORO is cold throughout the year.
HIGH SEASON – JULY – MARCH – Northern Parks get crowded and Southern Parks are less explored.
LOW SEASON – APRIL AND MAY – North parks busy and South Parks close a lot of camps however some are open.

BEST WEATHER:
JUNE TO OCTOBER (DRY SEASON Little or no Rainfall )
MARCH and APRIL ( Wet Season )
Dry Season is the best for wildlife viewing as the animals are around waterholes and grass is shorter.
Wet Season is good best for birds and butterflys although you do get good wildlife too but the grass is taller especially in the South Parks, and some roads are not accessible (be prepared for a wonderful adventure )
BEST TIME TO VISIT NORTHERN PARKS
SERENGETI, LAKE MANYARA, TARANGIRE, ARUSHA NATIONAL PARKS

Wildebeest Migration Map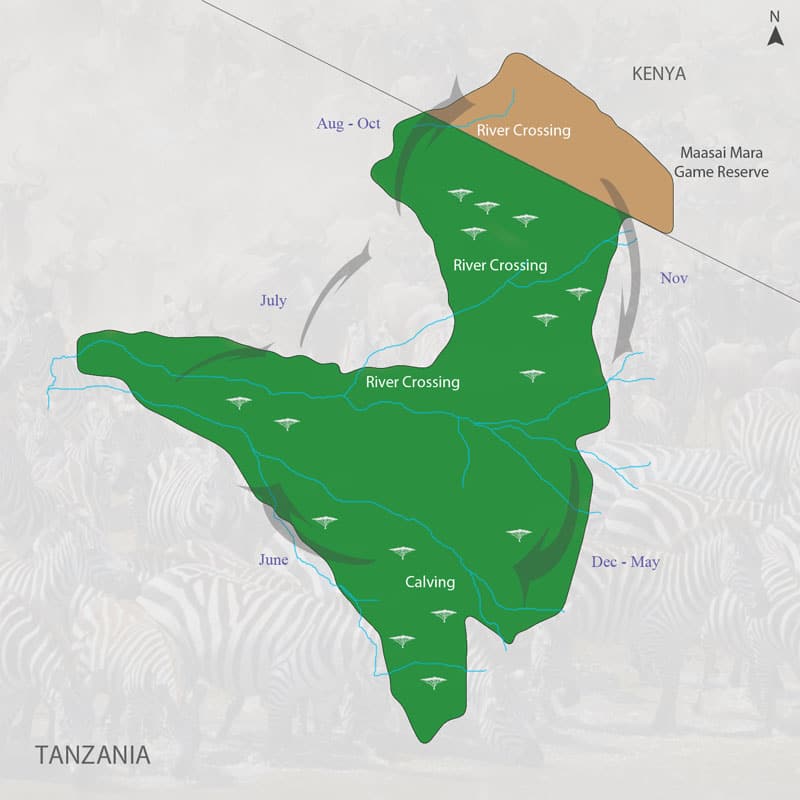 BEST TIME TO VISIT NGORONGORO CRATER – GOOD THROUGHOUT THE YEAR
BEST TIME TO VISIT SOUTHERN PARKS
RUAHA, MIKUMI, UDZUNGWA, KITULO, SAADANI NATIONAL PARKS AND SELOUS GAME RESERVE


BEST TIME TO VISIT WESTERN CIRCUIT PARKS
KATAVI, GOMBE AND MAHALE NATIONAL PARKS


Go to our Visa page to find out whether you need a visa to enter Tanzania http://thetravelvisacompany.co.uk/ubonsafari/tanzania/
Find out more about Tanzania on the largest travel guidebook online http://www.lonelyplanet.com/tanzania or the Wikitravel Guide http://wikitravel.org/en/Tanzania
FREQUENTLY ASKED QUESTIONS
DO I NEED A VISA:
AUSTRALIA – YES / EUROPEAN COUNTRIES – YES / UNITED KINGDOM – YES / USA – YES
Please enquire with the Tanzania Embassy in your country of Residence as we recommend you get you visa before you before you travel.
TIPPING:
It is not mandatory to tip however we do recommend you to tip in Restaurants, Bars something that would suit you. For Drivers, Guides and
Porters we recommend a minimum of USD 5 per person per day.
INTERNET ACCESS
Most places have WIFI internet however in camps and lodges you may be limited to some specified areas, for Camping safaris there is no internet.
MOBILE PHONE ACCESS
Most of Tanzania has great mobile coverage especially in cities and towns. There's limited access in some of rural areas. A local sim would be easily available for purchase.
WHAT ARE THE TOILETS LIKE:
Western style Toilets are available in most hotels, lodges and camps. Some areas may have squat toilets.
DRINKING WATER
Drinking tap water is not recommended. Mineral water is always available.
ARE CREDIT CARDS ACCEPTED:
Please inform your Bank before you travel to ensure you will not have problems using your cards. Credit card facilities are available in western restaurants and hotels but not local shops.
ATMS:
ATMs are plentiful in major cities and towns.
DO I NEED A TRAVEL INSURANCE
It is mandatory you should have Health / Travel Insurance
PUBLIC HOLIDAYS
Please see http://www.worldtravelguide.net/tanzania/public-holidays
ELECTRICITY / PLUGS:
Electricity in Tanzania has 230V and 3 Pin flat plugs although some new hotels are now having round pin plugs so carry your travel plug.
DOES TANZANIA HAVE MALARIA:
Yes, visit your GP before you travel for your vaccinations and Malaria pills.
TRAVEL TIPS
Dress respectfully, shoulders to knees should be covered especially in when entering places of worship.
Respect local traditions, customs and religions
Please do not buy coral, ivory or any animal products
Dispose of litter appropriately in bins
Do not throw cigarette butts especially in the parks as it may cause fire and destroy wildlife and habitats.
Don't be afraid to learn the local language and smile.
Please support the local shops and people
When taking photos of people please ask permission
Tanzania has a large population of Muslims so please be aware of their traditions especially Ramadhan and dressing
All national parks have a no off road rule.
When near wildlife please keep noise down as it would disturb them.
No sudden movements near wildlife.
Do not wear contact lenses.
Always ask for Receipts when purchasing any items and keep them for the duration of your trip.
Here at Ubon Safari, we do our utmost to ensure that you have a spectacular adventure when you're visiting Africa. If you would like to book one of our luxury Tanzania safari holidays, contact us on +44 203 198 0484 and one of our friendly team members will be more than happy to help. Furthermore to say, that Ubon Safari is one of the luxury African safari companies.