October is known as the "Suicide month" for travel to Botswana due to the extreme heat. However, if you are a die-hard wildlife enthusiast like me, you will not let this deter you. Despite the heat, October is the best month for wildlife viewing as the arid terrain forces the game to head towards the local waterholes.
A long-haul flight via Johannesburg was the beginning of my Botswana safari adventure. Once passing through Immigration and collecting my duffle bag I proceeded towards the Departure gate where I was met by Slodge, my driver cum guide. After filling in the indemnity form and a cold drink in hand, we were on the way to Chobe Game Lodge, a mere 45min drive away. As soon as we crossed the park gates we were on a game drive with Impalas leaping across the road. Slodge decided to take the scenic route which led us on the edge of the Chobe River where I got my first sighting of the Rare Sable Antelope and many grunting hippos grazing out of the water!
Chobe Game Lodge is the only lodge in the Chobe National Park situated right on the edge of the Chobe River, reason enough to make it a top choice for a safari stay. A 5-star lodge with river frontage; all its balconies have dedicated river views, adding to the wow factor. Once you are at the lodge you will notice that all guides are women; very professional and clued-up about the reserve. The Lodge offers eco friendly game drives and boat safaris, and a bespoke safari experience for families, couples, honeymooners or singles. A 250-metre elevated boardwalk offers an excellent viewing platform of wildlife across the river and flood plains, another endearing feature. I must say, I had an absolute memorable experience with Oriah my assigned guide, who took me through some exciting wildlife viewing on an very quiet electric four-wheel drive landcruiser.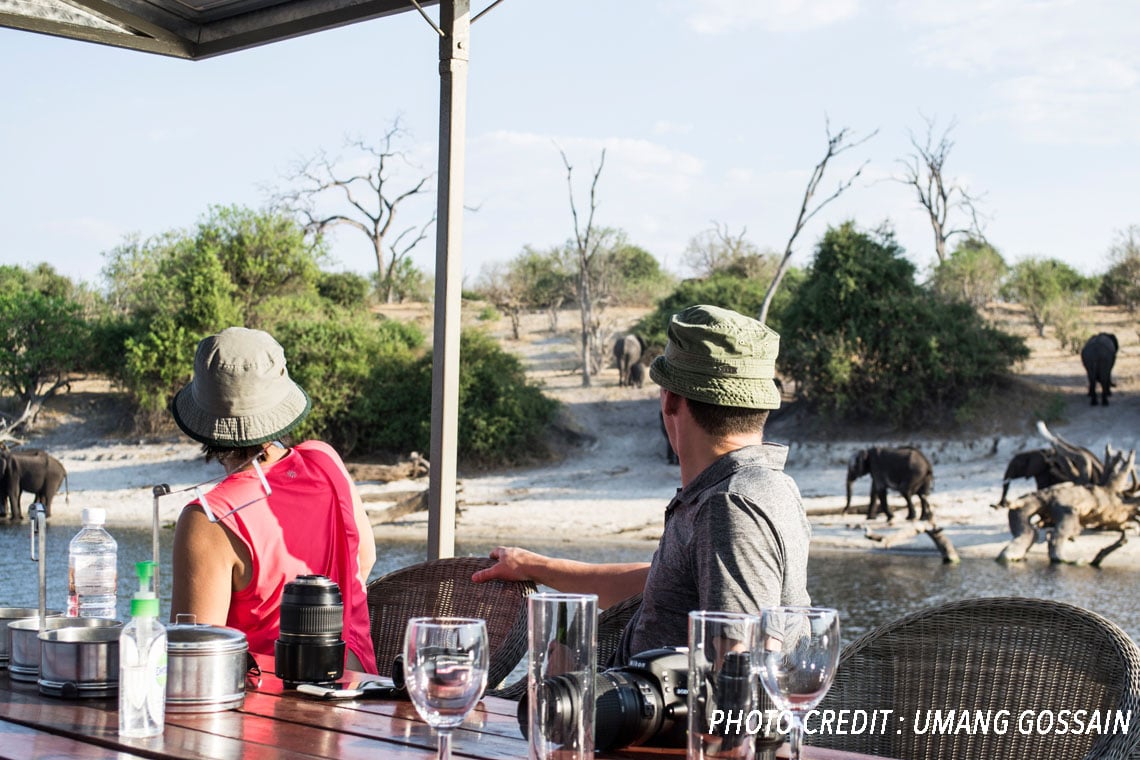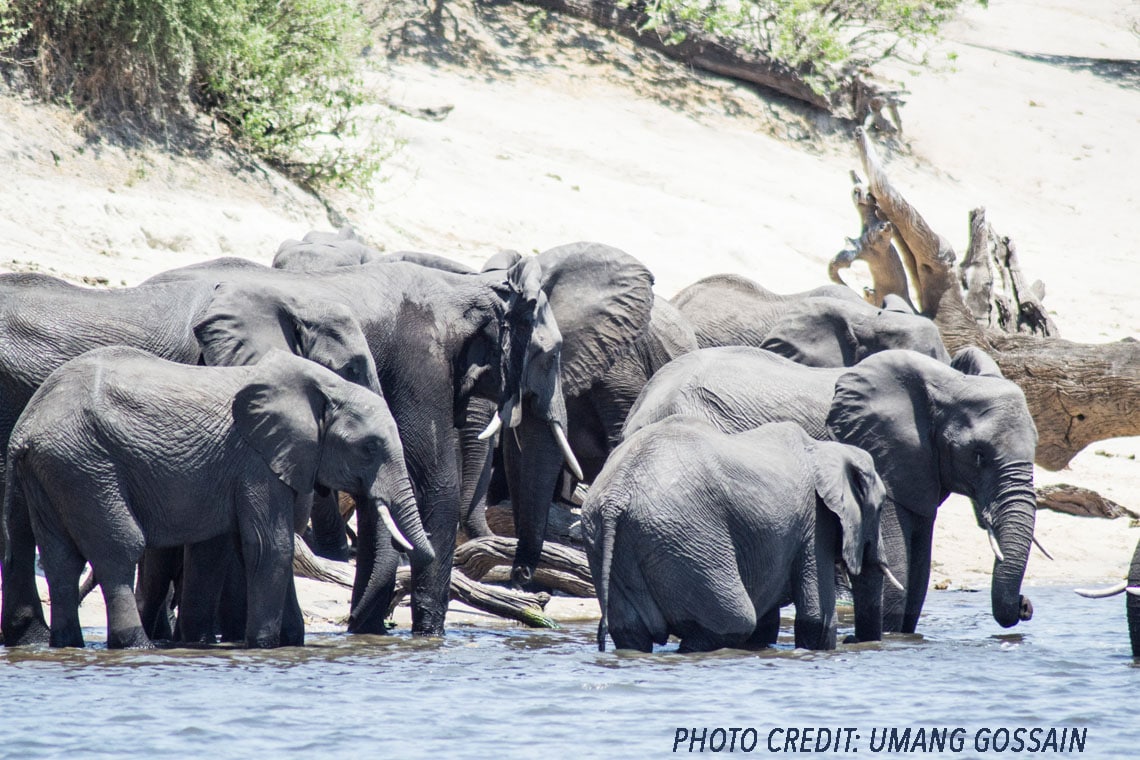 BOAT SAFARI ON CHOBE RIVER                                  ELEPHANT IN CHOBE RIVER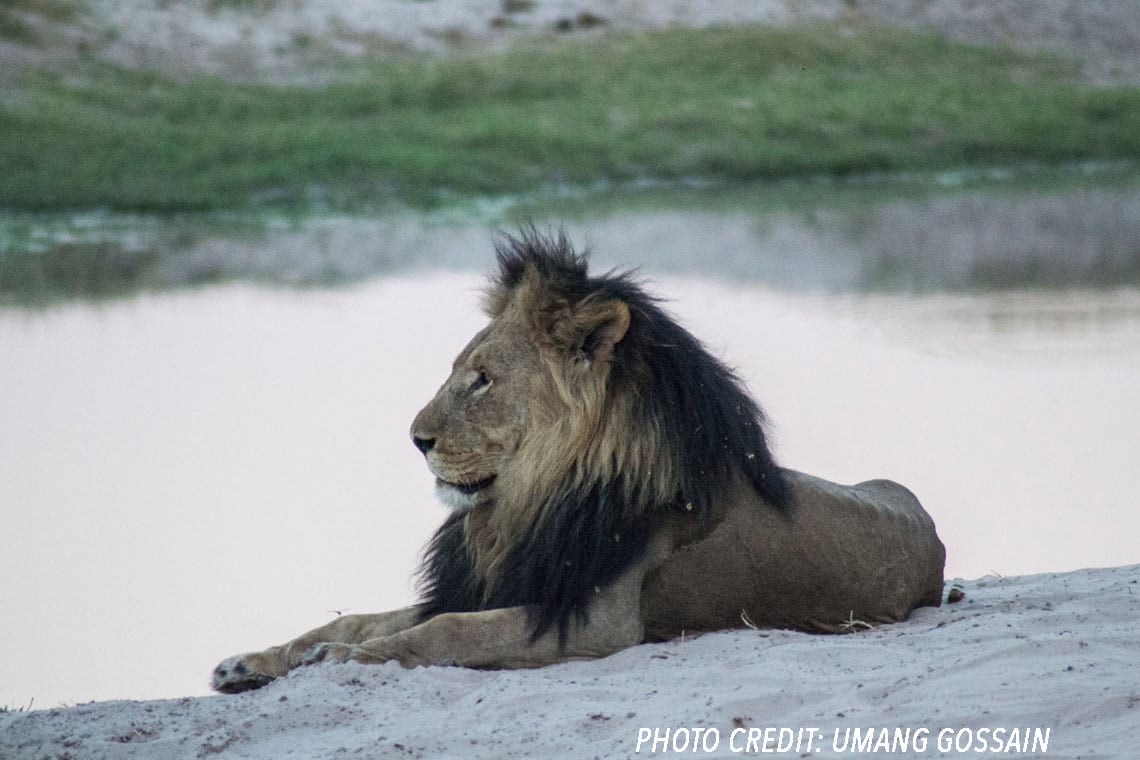 LION IN CHOBE NATIONAL PARK
I continued my journey on a small Cessna plane from Kasane Airport to Savute airstrip, where I was met by my guide, Metal, who has many years of experience with the Desert and Delta Safaris. During my 30-minute bumpy drive to the camp, we saw large herds of elephants heading for water in the intense heat of the day, which was an unforgettable start of this wildlife adventure.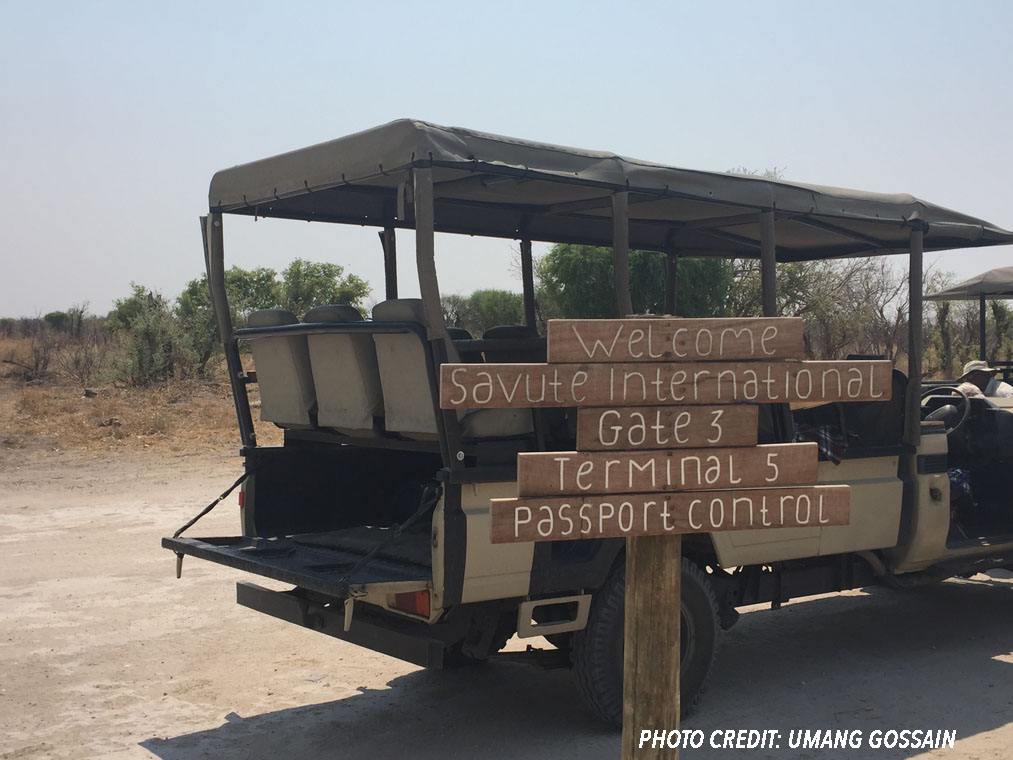 TAKEN: SAVUTE AIRSTRIP
At Savute Safari Lodge guests are offered land based 4 x 4 safari experiences and trips to the ancient San rock paintings at Gubatsa Hills. The highlight for me was sitting in the shaded viewing deck having my meals and  watching the "Bush TV" as different species of birds and mammals came to drink at the waterhole. Elephants gathered in their hundreds with small calves fighting for space to have their mud bath and to spray their hot bodies with the muddy water. At night, the resident Lion came in for a drink and entertained us with his roar that echoed in the silence of the bush.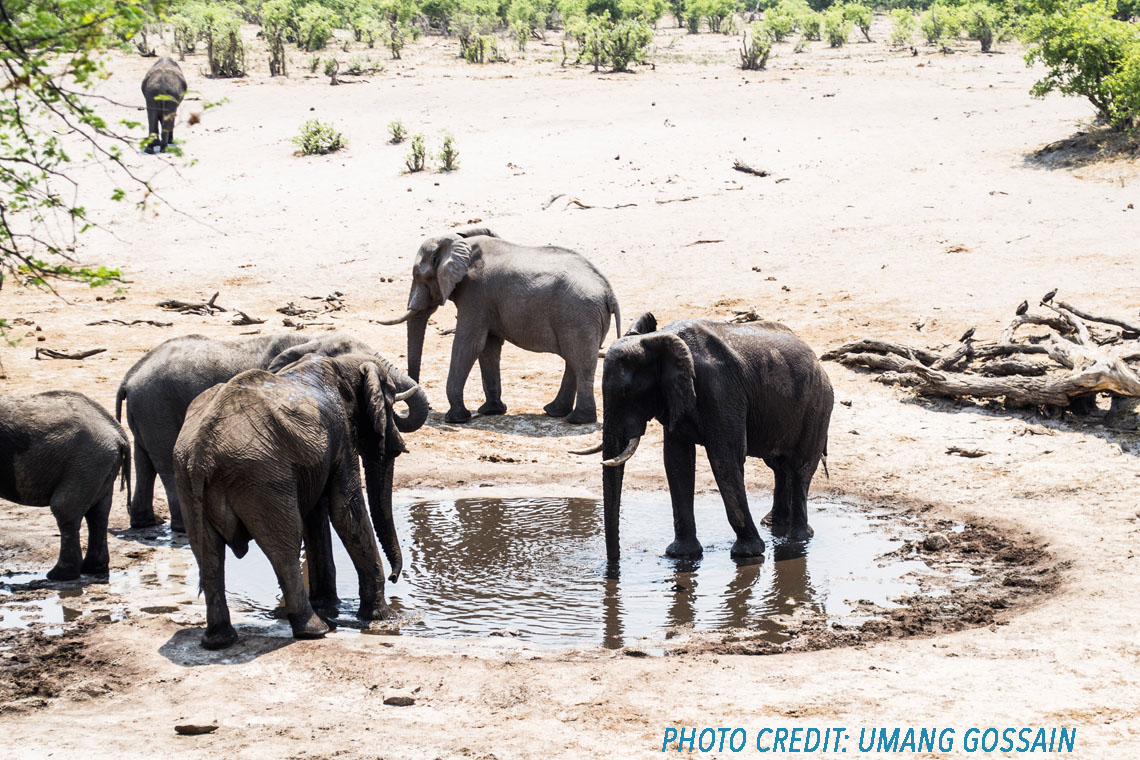 TAKEN: SAVUTE SAFARI LODGE FROM MY ROOM
The Savute is best known for its second- largest Zebra migration in summer. I was lucky to catch the zebra scene before the migration began.
Our game drives consisted of driving through dry open plains and rocky outcrops, across bush and marsh areas to the winding waterways of the Savute Channel, searching and tracking for wild dogs, leopard, hyena and lions.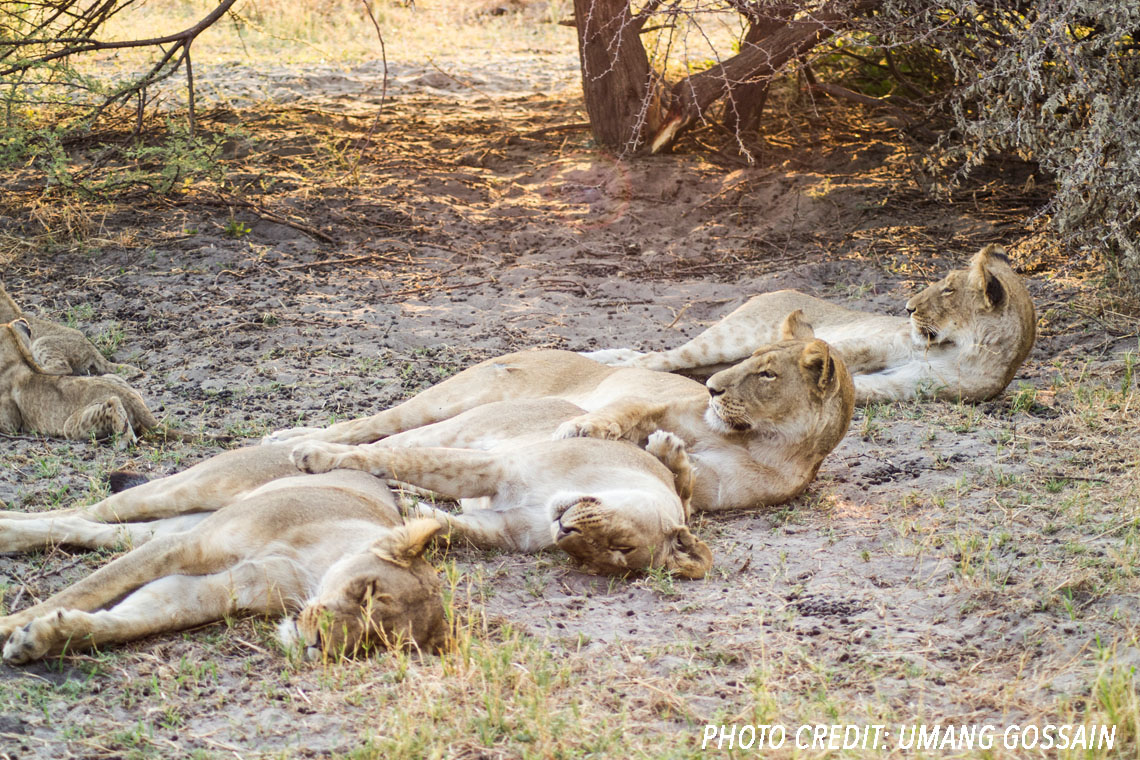 FAMOUS STARS OF "SAVAGE KINGDOM " – NAT GEO WILD – LIONS OF SAVUTE
During my drive I was lucky to meet the famous stars of the wildlife documentary  "Savage Kingdom" on NatGeo Wild which was shot in Savute. Metal also informed me how the Savute Channel had dried up since 2009 but once again began flowing into the marsh due to the underground plates shifting a few degrees.
Savute is known for its amazing wildlife sightings. In one morning itself, we were able to see cheetah, lions, leopard, hyena and wild dogs; not to mention herds of 'plains animals' like wildebeest, zebra, Tsessbe, jackals, herds of huge elephants and hundreds of bird species.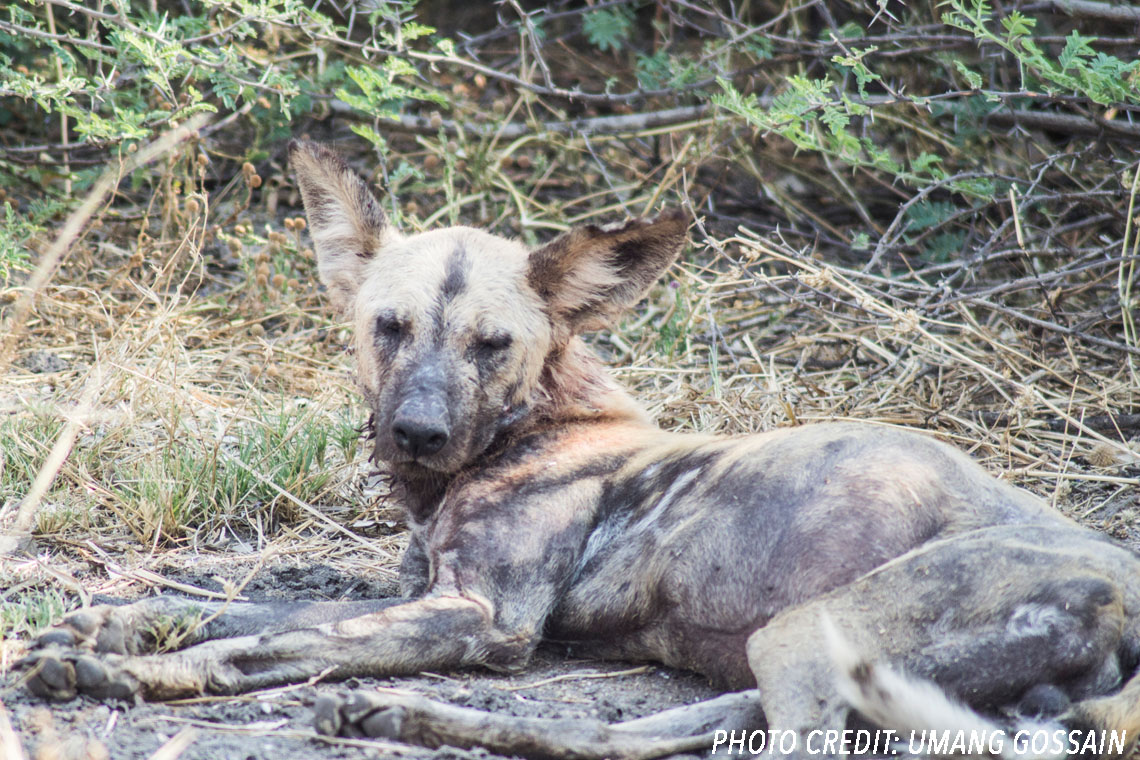 WILD DOG IN SAVUTE
Last on my agenda was the best, a fly-out to the massive and legendary Okavango Delta. I was met by Owner (my guide) at the airstrip to Camp Okavango. The Okavango Safari was beyond my expectations. The camp offers water based activities such as boat safaris, mokoro (a dugout canoe) and a walking safaris on one of the many Islands within the Delta.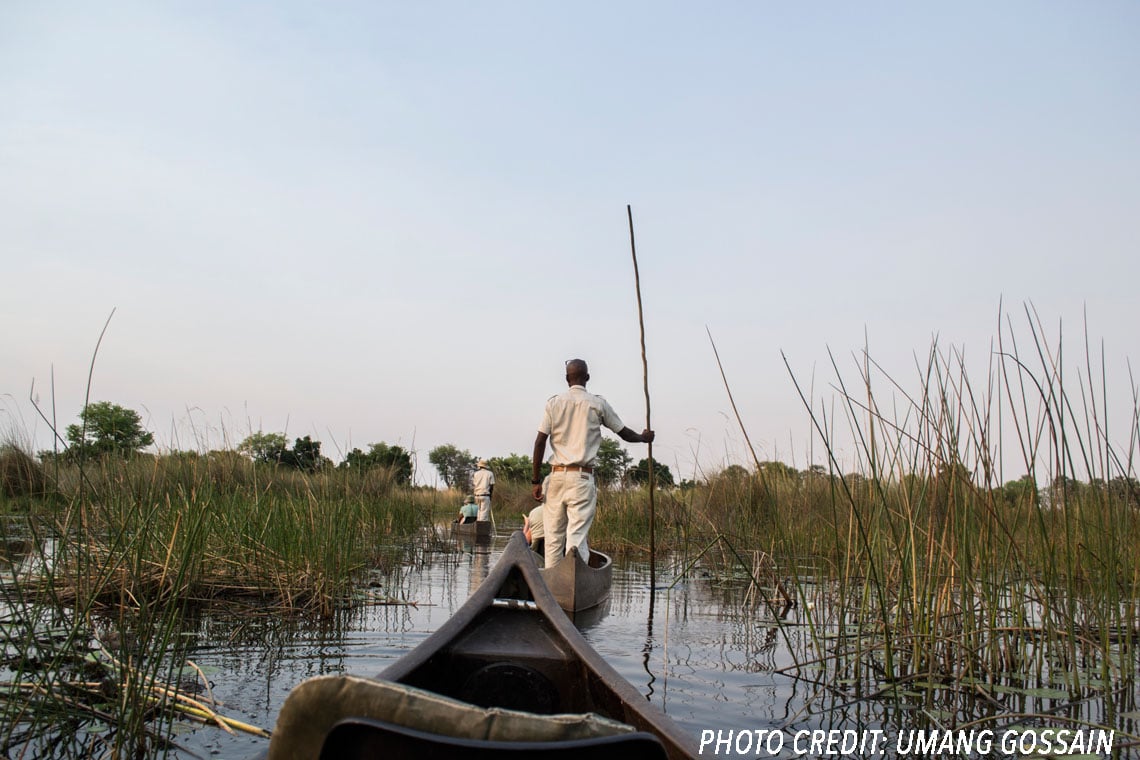 MOKORO- OKAVANGO DELTA WALKING SAFARI – OKAVANGO DELTA
It was a totally unique safari adventure, drifting slowly in my mokoro and getting up-close to the wildlife. We saw Red Lechwe antelope, the rare Sitatunga, small amphibians, a herd of elephants crossing the flood plains, hippos, crocodiles hidden within tall Papyrus and reed rafts and hundreds of bird species.
The camp itself is situated on the remote Nxaragha Island, with en-suite rooms on raised platforms for beautiful views of the Okavango Delta. Networked walkways and sweeping ramps complete the luxury feel of this eco-friendly camp. It is difficult for me to pick out my best experience at Camp Okavango, but a certainly one of the highlights was the sundown. The sunsets over the Okavango are so mesmerising!  Whilst sipping on my Gin and Tonic watching the sun set on the horizon, the sky was filled with the most spectacular red and orange hues.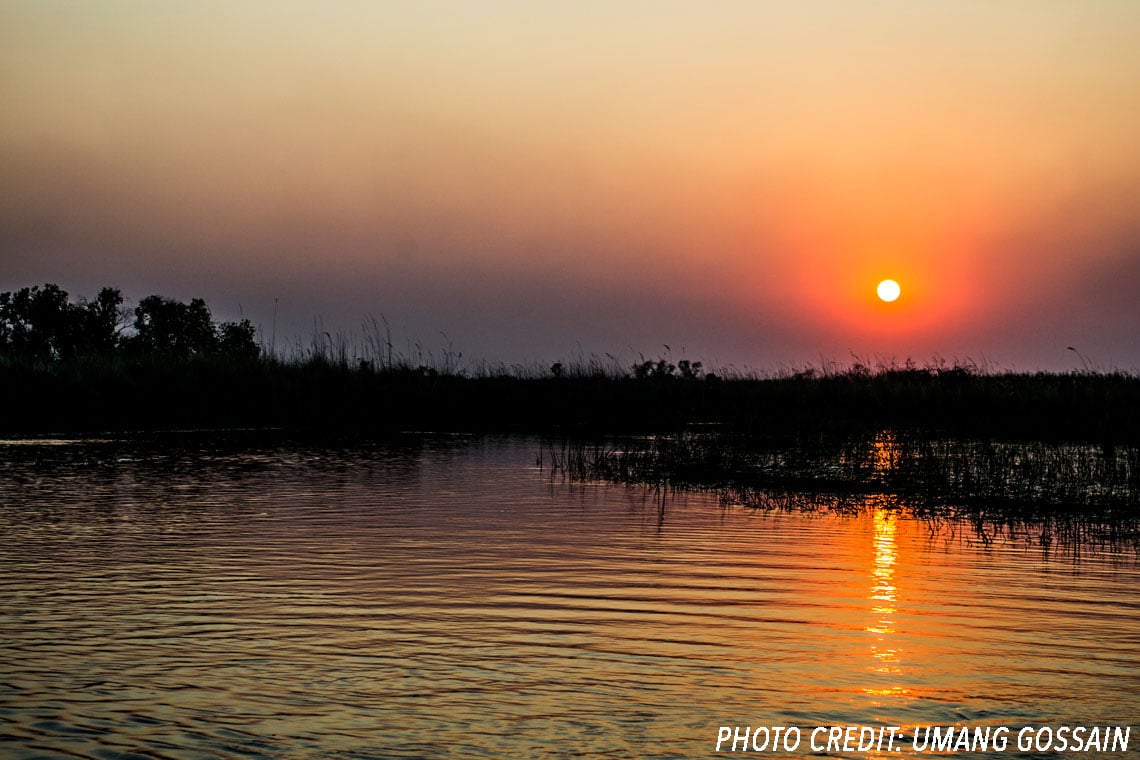 OKAVANGO DELTA SUNSET
Okavango Delta is a haven for bird- watching and experiencing wildlife on foot.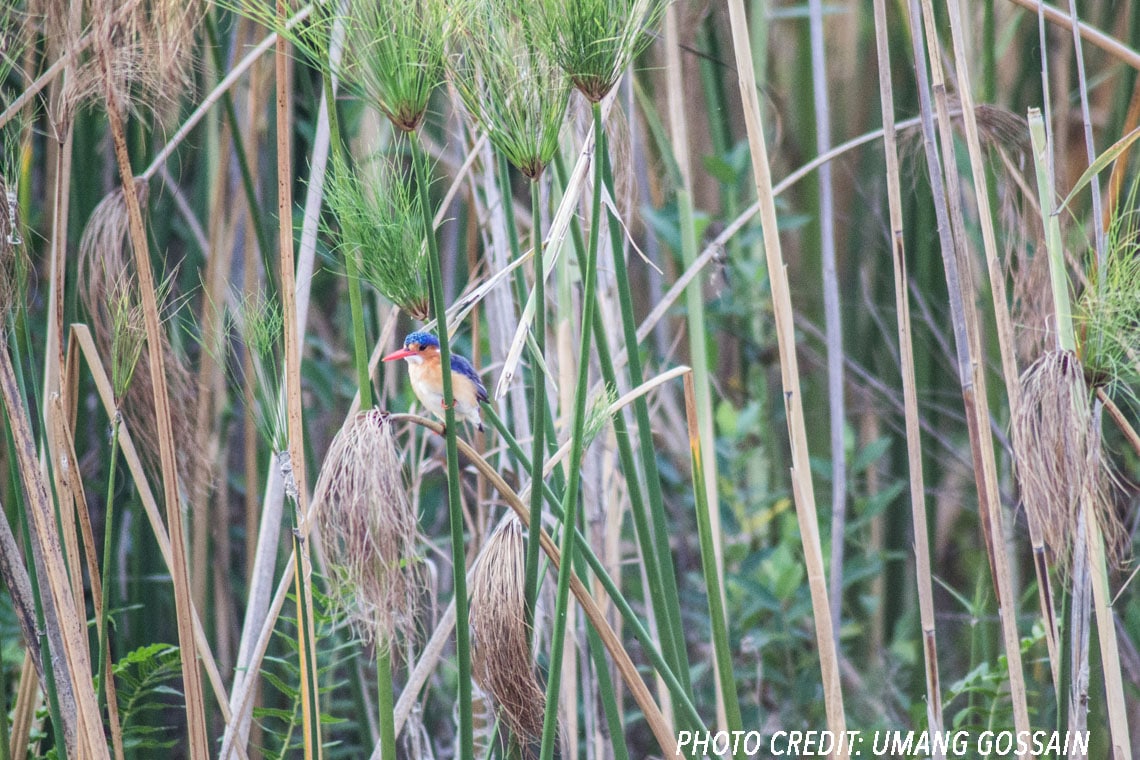 MALACHITE KINGFISHER – OKAVANGO DELTA
Dessert and Delta Safaris have other camps situated in Botswana. You can also stay at Xugana Island Lodge which offers  day and night game drives on their very own private concession along with motorboat and mokoro safaris.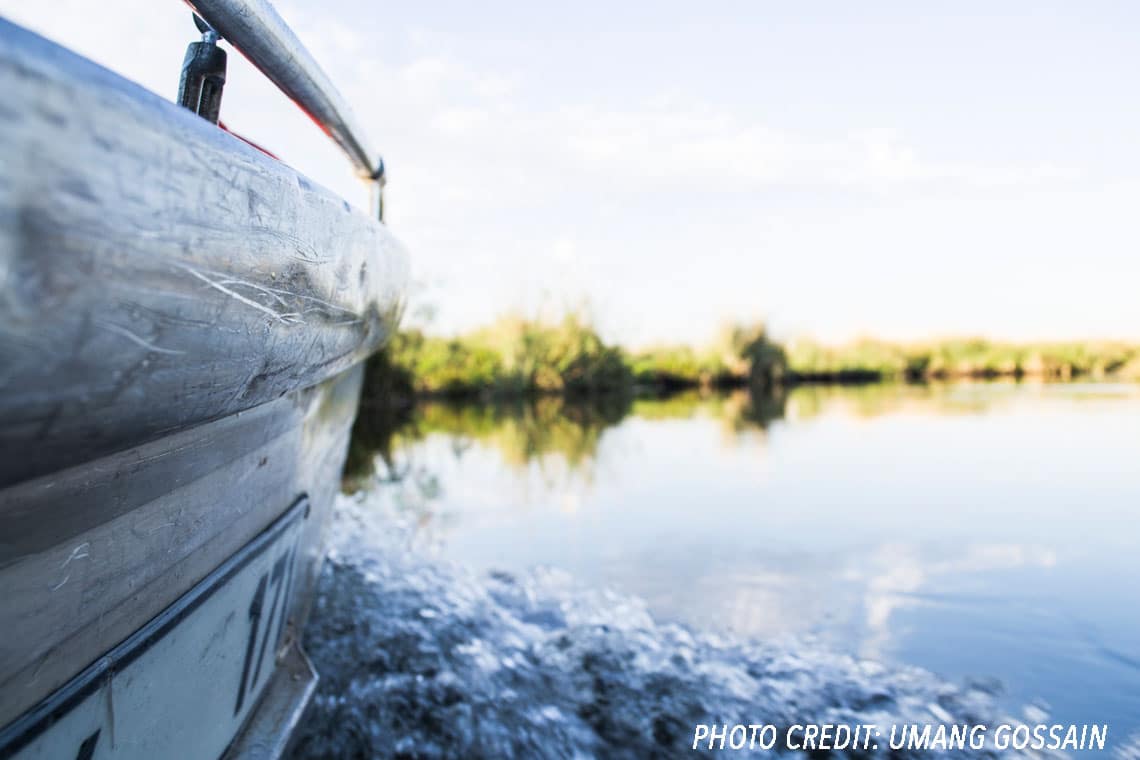 BOAT SAFARI – OKAVANGO DELTA
A Xugana stay offers you a one-off experience of the Xugana Lagoon and its resident ecosystem, with activities like birding and fishing for a richer holiday.
Unlike me, if you have more time at disposal, I would also suggest visiting other lodges and camps owned and run by Desert and Delta Safaris.  Camp Moremi is one of the best safari camps to stay. The camp is situated on the edge of Xakanaxa Lagoon. Famous for its outstanding game viewing opportunities, it offers a truly classic African Safari experience. Safaris include both, game drives and boat safaris.
Visit the most diverse National Park of Botswana – the Makgadikgadi Pans National Park. Known for its sanctuary to the zebras during the annual zebra migration. The LeRoo La Tau Lodge is a must-stay for its spectacular location – right on the cliffs with unsurpassed views of the Boteti River. The camp offers day and night game drives, boat safaris and local cultural excursions.
The Botswana safari adventure was over too fast for my liking. The country offers some of the most diverse range of safari adventures in Africa, and I so wanted to savour more. Exciting, unique and diverse, is how I would describe my Botswana safari adventure.
My recommendation would be to stay 3 nights in each of the Desert and Delta properties to really enjoy the true Botswana hospitality and to experience the amazing wildlife that surrounds you.