In our lifetime, most of us fly at least 3-4 times a year making flying the most common means of transportation than ever before. While I appreciate Greta Thunberg's views on flying, I personally know it's impossible to get from one point to another without flights unless we have excessive wealth to spend on different means of transportation and plenty of time on hand.
I recently had the pleasure of travelling to Zimbabwe with RwandAir.
Upon Check in, at the London Gatwick's North Terminal, I was pleasantly surprised to learn that I'd been upgraded to Premium Economy Class! Furthermore, I was also handed a free pass to the Business Lounge.
Having tried out a few Airlines already in the last few years, I was left with a bitter taste in terms of experience with most of them, I was compelled to write on the exceptional services RwandAir offers to their passengers.
A short Introduction to Rwanda:
Rwanda is one of the smallest countries in Central – Eastern Africa. It is a landlocked country surrounded by Uganda, Burundi, Tanzania and the Democratic Republic of Congo.
Its' capital is a city called Kigali, one of the cleanest cities in Africa. Rwanda is also ranked as the safest African Country to travel to.
Being the smallest country, you are never far away from the Major attractions Rwanda has to offer.
Within 1 – 2 hours from Kigali, you will be able to view Mountain Gorillas in the Virunga Mountains or be able to see the Big 5 on safari in Akagera National Park.
Tourist Visas cost approximately US$30 and can be obtained on arrival. One can also obtain an East African Tourist Visa for Approximately US$100, whereby you would be able to visit the neighbouring countries too.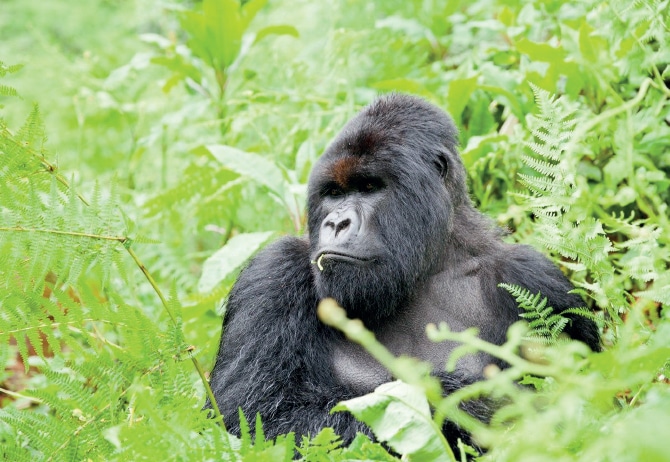 To travel to these beautiful destinations, Ubon Safari recommends your carrier to be RwandAir: Not only for the service it provides but for the ease of travel and connections within the African Continent.
You will not wait more than 2 hours for your onward connections from Kigali International Airport. RwandAir commenced its operation to London Gatwick in May 2017 and since then has received recognition for its excellent on-time performance rating of 95%! It operates the spacious A330 aircrafts between London Gatwick and Kigali.
RwandAir currently operates Three times a week from London Gatwick to Kigali: Tuesday, Thursday and Saturday from North Terminal, however, during the busy seasons additional daily flights are added.
Currently, the outbound service stops at Brussels for 45 minutes to collect passengers for onward travel to Kigali. The passengers remain on board while they wait for other passengers to board.
Total flight time is generally around 10 hours and 50 minutes including the Stopover in Brussels.
Not very fond of Airline foods, I generally avoid eating on flights.
To my surprise, food quality on the flight was remarkably delicious and while all dietary requirements are catered for including Vegan, Gluten-free and Vegetarians meals, the Meals and drinks served on board are "Complimentary".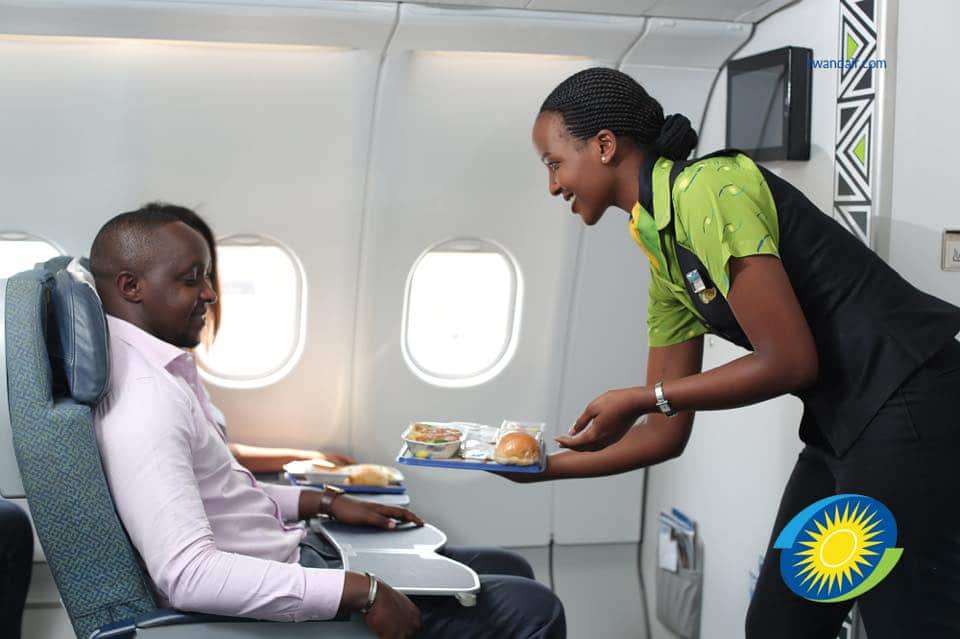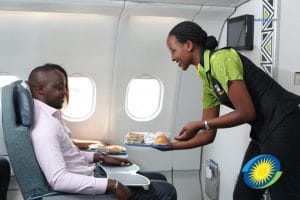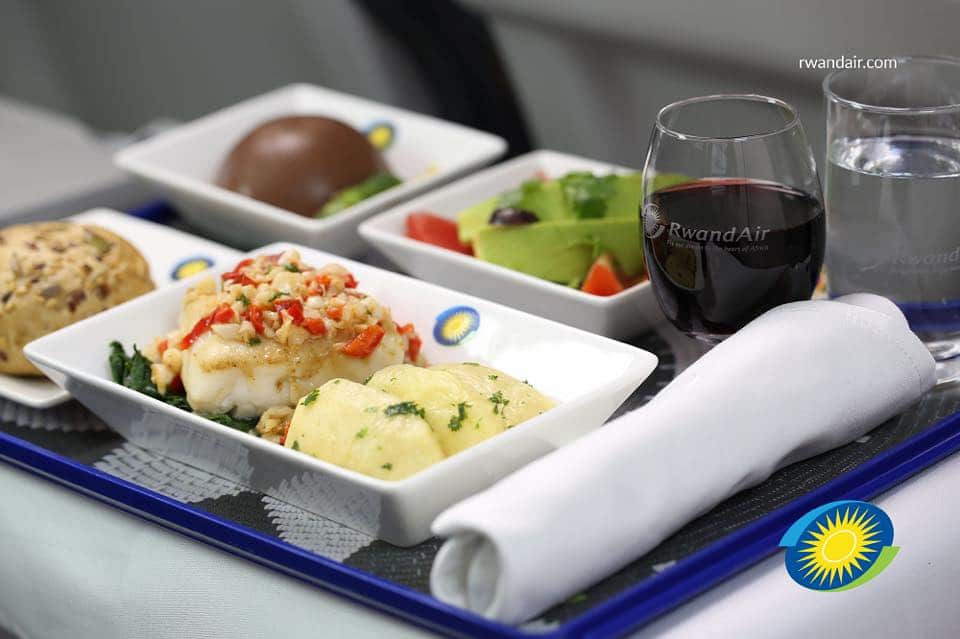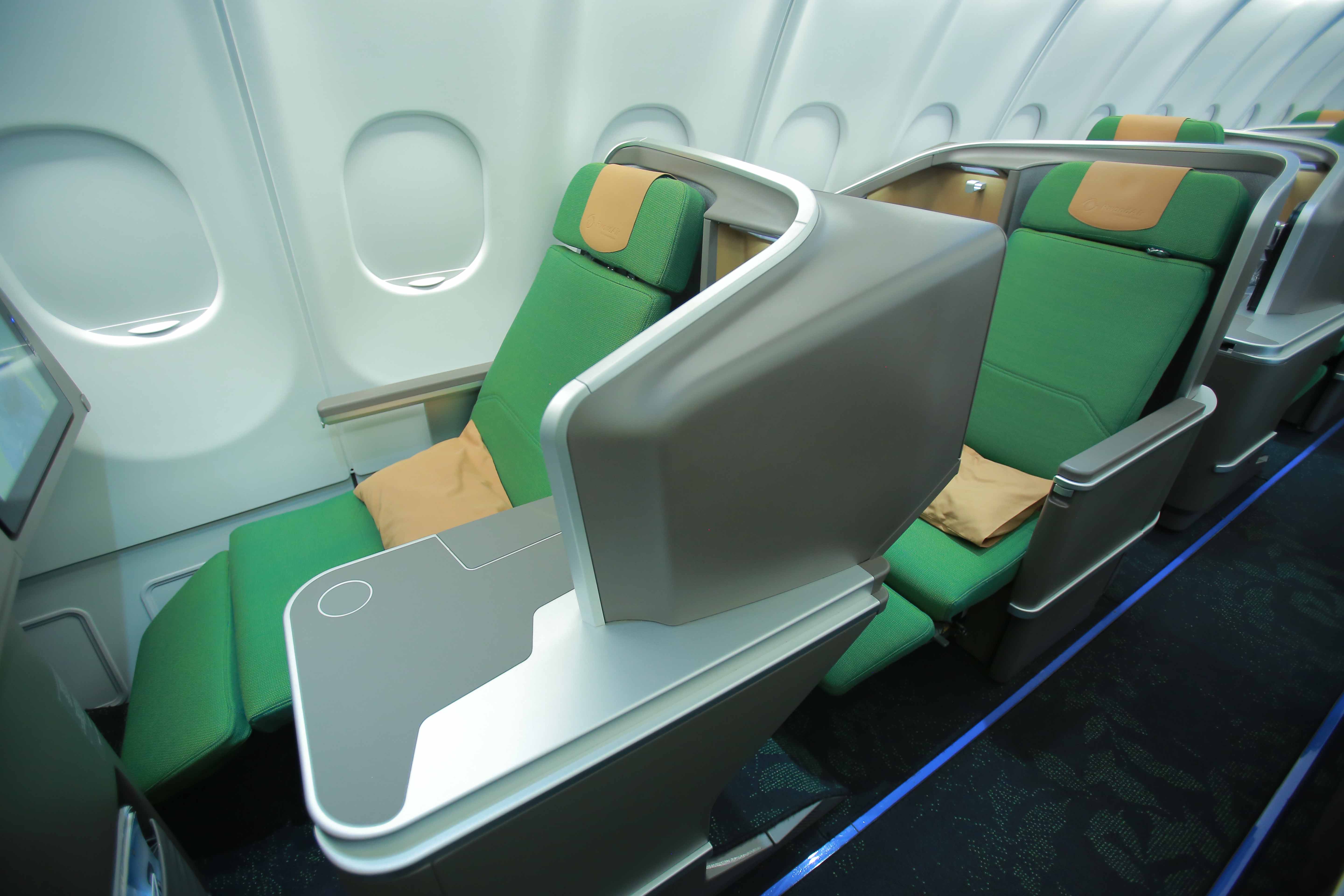 WIFI is guaranteed on Intercontinental flights including London Gatwick and Kigali so whether you are just surfing the Net or on a business trip, you are never far from being connected online. You will receive 15 minutes complementary thereafter charged as below:
1 Hour Additional:          USD 10
2 Hours Additional:        USD 20
Full Flight:                        USD 30
One of the nagging problems we have when traveling internationally is Luggage Allowance. With RwandAir, you can let go off the luggage worries and relax, as their luggage allowance is extremely generous.
Economy Class passengers are allowed 2 x checked-in bags at 23kg each along with 1 x hand luggage of 10kg. For the Premium Economy, the luggage allowance is 2 x checked-in bags at 32kg and 1 x hand luggage at 10kg and for Business Class passengers 3 x checked-in bags at 23 kg and 1 x hand luggage at 10kg.
Additional bags are allowed with a maximum of 5 bags per passenger, can be checked in at an additional cost which can range from £53 – £122 each way depending on the route and travel class.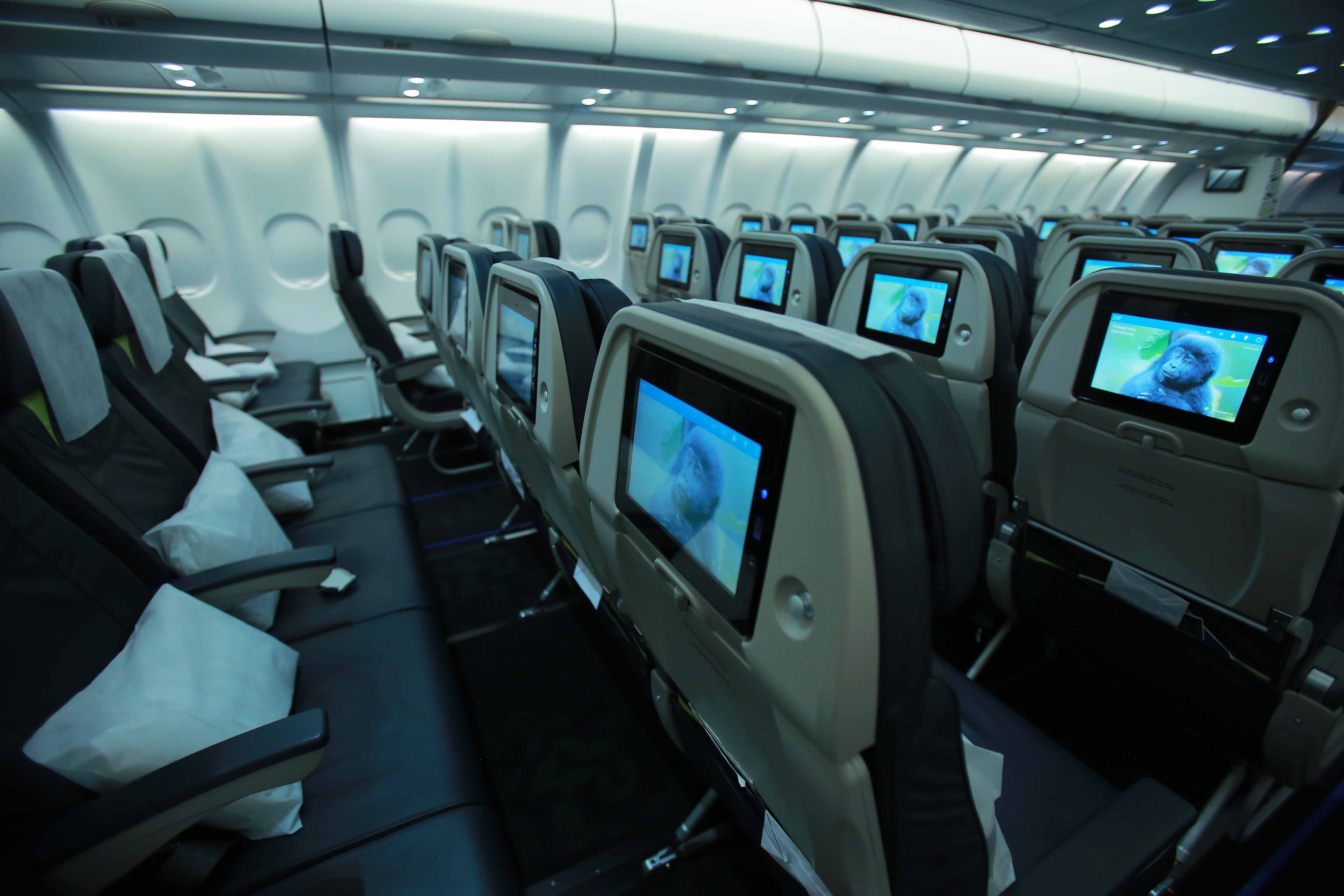 RwandAir has three classes for the London Gatwick to Kigali Route: Economy, Premium Economy and Business Class.
All the tall people would be very happy to know, all the three classes have generous legroom and the seating is outstandingly comfortable.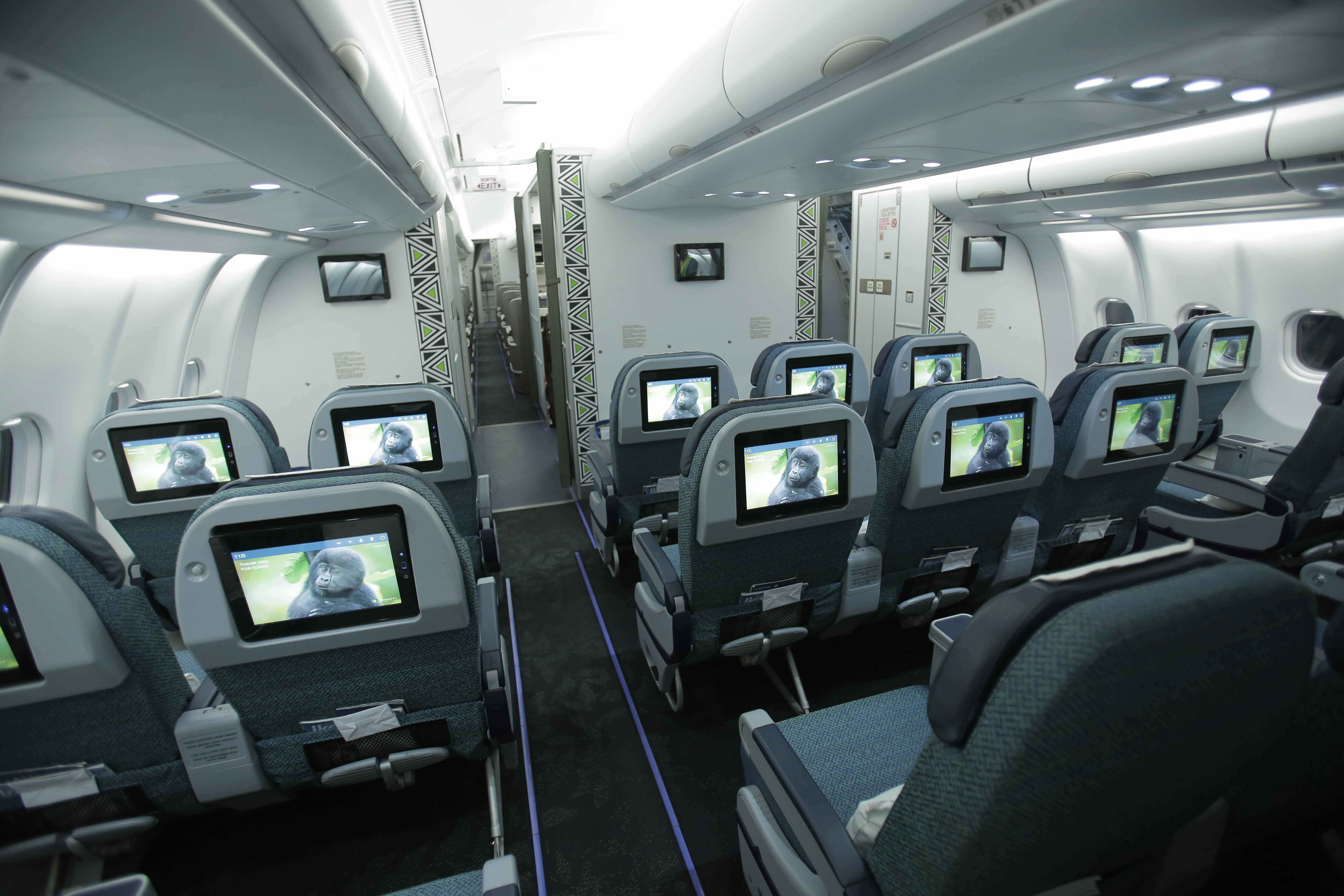 Currently, the routes are: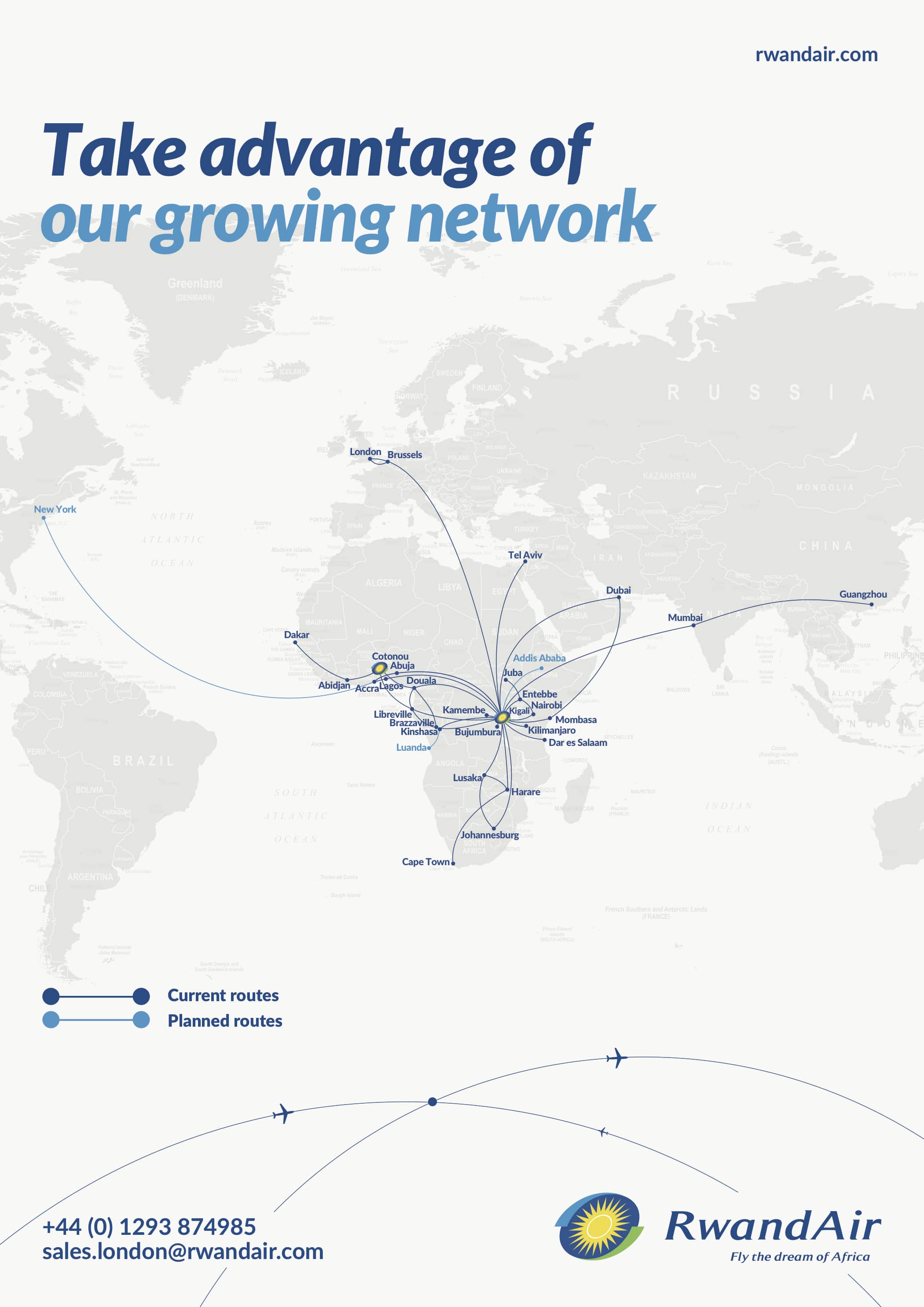 RwandAir is planning on increasing the frequency of flights into and out of London Gatwick as well as increase flights to and from other destinations.
I would encourage travelers going to Africa, whether on a holiday or business trip, to use the Services of RwandAir, there are more reasons to fall in love with this Airline.
Get in touch with us for safaris in Zimbabwe, Rwanda & Uganda: info@ubonsafari.com