With powdery white sand, beautiful palm trees, blue skies and crystal clear seas, our Zanzibar beach holidays are spectacular. Famous for its spices and bounty of exotic wildlife such as turtles, dolphins and red colobus monkeys, booking our beach holidays in Zanzibar is an unforgettable experience.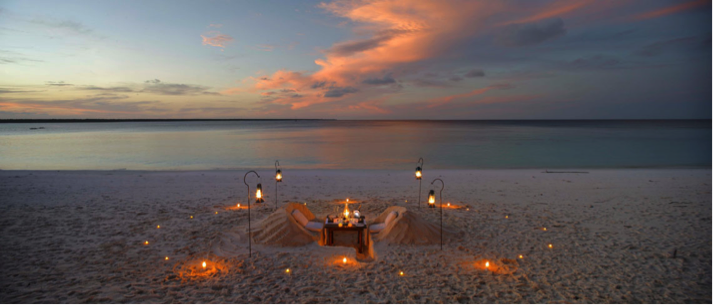 The Zanzibar archipelago covers over 50 islands, strung out like precious peals in the Indian Ocean, varying from tiny ridges like Chumbe and Mnemba to larger populated islands of Unguja and Pemba.
Dive into a world of tropical fish.
The barrier reef is located a kilometre offshore making Zanzibar an ideal choice for scuba divers wishing to swim in the oceanic wonderland.
Originally made famous for its spice plantations and the slave trade, Zanzibar does not only offer the most stunning beaches your eyes will ever see but it also has cultural lights such as the Stone Town. It is full of ancient buildings to explore.
Whether you love diving, fishing or relaxing, a Zanzibar beach holiday is an ultimate getaway to paradise!
Sounds amazing! How do I get there?
The easiest way to get to the paradisiacal beaches of Zanzibar is to get a ferry or flight from Dar Es Salaam. Zanzibar is located 45 miles off the coast of this major city.
Ferries operate on a daily basis from this destination and there are also several daily flights.
The fascinating history of Stone Island.
Even though our beach holidays in Zanzibar offers a chance to see a sunset like never before, there is also lots of history and culture to explore.
Stone Island is the oldest part of the Zanzibar city. An example of that is the Swahili training town. Its buildings reflect the panoply of different cultures which make up the bricolage of Africa, with influences from the Arab world along with India and Europe.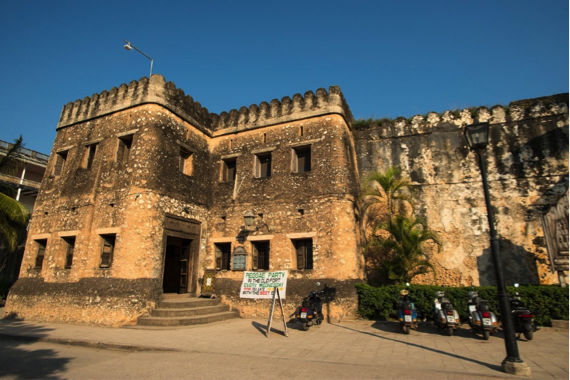 Since it hasn't changed for two hundred years, Stone Town is an exciting trip with winding alleys, bustling bazaars, mosques and grand Arab houses whose original owners compete with each over opulence of their dwell.
Also, you can sample traditional Zanzibar cuisine at the Forodhani Gardens which is located along the main sea walk.
With Ubon Safari's Zanzibar beach holidays, they allow to you to experience first class snorkelling, canoeing and visiting the historical Stone Town.
Our Safari Blue Tour gives you the daytrip of a lifetime.
If you want to head on a fantastic Zanzibar beach holiday, we will surpass all your wildest expectations such as fulfilling your bucket list by swimming with the dolphins!
From exploring Menai bar where you can spot dolphins to enjoying a fresh seafood buffet at the Kwale Island, our daytrip for beach holidays in Zanzibar is a feast for the eyes and senses.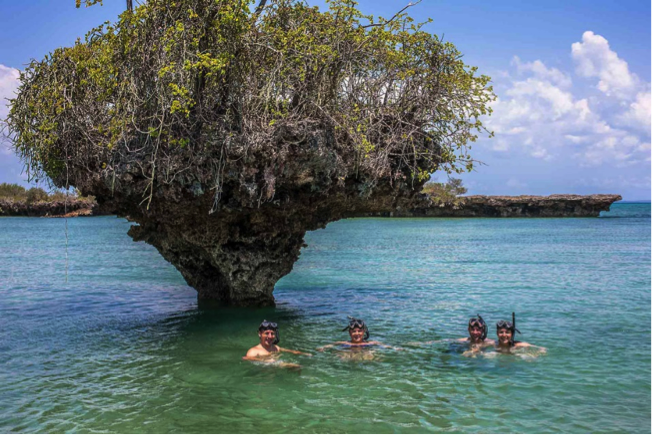 During the beach holiday in Zanzibar, you will sail on a sailing dhow to explore everything in the area. With Stone Town only a 30 minute drive away, it is an excellent starting point to explore Zanzibar.
Here at Ubon Safari, we aim to provide our customers and clients with tour safaris and beach holidays. So whether you're looking to relax or plunge into the sea with the snorkelling tuition, our Zanzibar beach holidays are perfect for you! Contact our team on +44 203 198 0484 to book a luxury African safari holiday.